So here's a quick meal I made for myself last night.  So good. And easy.  If you don't know me, then you don't know that IREALLY don't like to cook.  At all.  But this is easy and yummy!
I cut up some green and yellow peppers.  Threw them in a pan with some spaghetti sauce and the Italian Veggie Sausage.
Let those heat up slowly while I cooked up some pasta, then mixed them together.  Voila!  Easy!
You, of course, could add other veggies to this such as zucchini, summer squash, etc  Make it your own!  Let me know if you end up making some and what you thought!
Tonight was a sweet potato night and I'm not even putting in a long run in the next few days.  LOL  It just was what (as my mother in law would say) I had a hankerin' for!.  Here's what they look like:
They're not hard to make (hence why I make them) and as you know they're very filling.  I eat the whole sweet potato and nothing else!
Here's the link to the recipe… I use their recipes for ONE sweet potato (not two) as I find it's not enough seasoning otherwise.  So if you're going to make 2 sweet potatoes I would recommend doubling the recipe!  As you can see I don't cut mine into wedges either, just slice 'em up.
Hope you enjoy and let me know if you end up making them and what you think!
At this rate it'll be Christmas by the time this post goes live!  LOL  I had spotty wifi on vacation and it was a painfully looooooong process to get the half marathon recap up on my blog so I didn't even try to get the Turkey Trot recap up!  And now that we're back home, well you know how it is… BUSY!
So, here's the quick abbreviated version!
My whole family participated in the 33rd Annual Turkey Trot in Cape Coral sponsored by the Ft Myers track club.
IT WAS A GREAT DAY!
My husband and I ran the 5K.  I think I PR'ed it (and wasn't trying to) – but again haven't had a moment to check back in the archives! LOL  I was happy to place 18th out of 117 in my age group and 144 out of 943 women.  It's not a top 3 but I'll take it! (And the crowds, again I need to learn how to deal with the crowds… first mile waaay slower than miles 2 and 3! But I think that had something to do with getting the kinks out from the All Womens Half!)
My three older children ran the 1 miler… and my girls NEVER stopped to walk!  First time for my oldest to run the mile and NOT stop!  I ran with my son and he walked maybe 4 steps – total.  (Have to say, I was one proud momma when in the last half mile he was passing boys and girls older than he! And I'm not usually competitive – so I'm going to stick with "proud"!)
A shout out to my sister who got all 4 kids up and ready and met us for their 1 mile fun run. (So they didn't have to stand around and wait for mom and dad to run! And so mom and dad could actually participate in an event together!)
And my youngest had a blast running the tot trot with the whole family!!!
There was quite a large turnout for the run/walk and the fun run.  Maybe 2000?  I'd have to look on their web site. They had a great selection of food at the end… grapes, oranges, bananas, bagels, and plenty of water for everyone!  I do believe our family will be participating in this again!
And lastly, for a reason I don't know….
So there's my super quick recap of the event.  Had a total blast with my family and obviously it goes without saying, but I'll say it anyway, I appreciate my healthy family and their willingness to participate in the sport of running!
My first half marathon outside of the state of NH happened this past Sunday! (I think I need more Destination Runs in my running future!)
A quick explanation of why I ran this race… I was training for the Manchester City Half Marathon (held on 11/4/12) and my husband was looking at Turkey Trots to run while on vacation Thanksgiving week. In his search he came across the All Womens Half Marathon presented by Lady Speed Stick in St Petersburg. When he asked me if I wanted to run it I thought he was kidding. He wasn't. I kind of said sure and next thing I knew he had signed me up AND asked my little brother who we'd be seeing in FL if he wanted to run it too! Daniel immediately agreed with an "I'm game" text even though the race was just 3 weeks away and he'd only been running a few days a week for ½ hour each time!! (Aah, to be 23 again!)
Fast forward to the race… the Check in Process was SUPER easy and quick and the EXPO was AWESOME! So many great vendors, so many women (yes, there men – roughly 100 compared to the 4000(?) women!), so much good energy. Unfortunately I didn't get to the Expo with much time to spare so I wasn't able to shop as much as I wanted (which I'm sure made my husband happy! LOL).  I did quickly pick up some BRIGHT PINK Experia socks on sale (a fave of mine!).
My girls and I knew the Sweaty Bands booth would be there so we immediately went in search of it! It didn't disappoint, of course, and we walked away with um… well… a lot of new Sweaty Bands! LOL
(I do feel the need to quickly point out that before I went to bed I pinned my race bib to the tank I'd be wearing the next day so I wouldn't forget it. This will mean more when I get my Manchester City Half Marathon recap written and posted! LOL)
We woke up 2 hours before race time and immediately ate a full bagel with cream cheese and half a banana. This is one of the worst parts of racing for me – knowing I need to eat before the race but not being hungry at all at 5 am! But I got it down, took a quick shower to wake up, got dressed, and Daniel and I were off.
Parking was super easy and best of all, free! We parked really close to the start/finish line with zero problems. Impressive knowing how many participants there were. We headed to the start line (still in the dark I might add!) and hit the port-a-potties (there were a bunch of them). Immediately I was struck with the décor… look at these tables, outside, with table cloths, and pink ribbons! These tables were for anyone to use for whatever reason. Cute!
Okay, back to the race… they did have corrals for the runners to line up by numbers but there definitely wasn't enough room for all of us. Either that or the runners weren't lining up by numbers! So Daniel and I amongst many, many other runners waited on the sidewalk for the race to start and slowly made our way into the masses and to the start. Took us about two minutes to get to the starting line after the gun went off and we were probably only 100 feet away from it! Crazy. So this is where I need some advice from any runner reading this post. HOW DO YOU DEAL WITH MASSIVE CROWDS THE FIRST COUPLE MILES OF THE RACE? My first mile was so slow I got scared there would be no way I could run the race in the time I wanted (anything under 2 hours, even 1:59:59 would've been great!). So I picked up the pace, significantly and in hindsight, that's where it all started to go downhill. I weaved in, out, around, and through countless numbers of runners those first few miles and ran too fast miles 2, 3, 4, and 5. And at mile 6 I began to feel the fatigue in my legs. I was excited to see my time was creeping closer to making the 2 hour mark a reality, but then lost track of my time versus the gun time seen on the clocks every few miles. And then the mind games kicked in. If you're a runner, you know what I mean. Ugh. Needless to say the last three miles were a ginormous mental challenge:
"Just stop running, you're not going to make the time you want anyway."
"Just keep running, you've come this far."
"Stop and wait for Daniel, might as well finish together."
"Just keep running, you're almost there. How could you run this flat course slower (overall) than the hilly one two weeks ago??"
"Oh look at that girl at the medic tent with ice on her ankle; maybe I should fake an injury."
The list goes on and on. And then something happened that reminded me why I love the running community so much. A fellow runner saw me walking at mile marker 12. (I have a rule to NEVER walk during a race, EVER. And I broke that. That's how bad these last few miles were mentally.) I had decided to just walk until Daniel caught up to me. I had taken about 5 steps when a woman came up to me and said "Keep running! It's only one more mile!!" And ya know what? She was right. It was just one more mile. And I knew I could do it. Not in the time I wanted, but I could finish it. Running. And so I did. I finished it. It didn't feel great at the time, but now with it a few days behind me it feels just fine. I ran a half marathon, two weeks after running a PR, and with my brother. What's so bad about that?
They had a great chute for the runners and then we were greeted by US Army soldiers who placed our medals around our necks. I walked back to wait for Daniel, darn kid was only a little over 2 minutes behind me! Pretty amazing for three weeks of training!! We proceeded to the tents where there were bananas, Entemann's mini muffins, pretzels, water, Gatorade, and best of all…. COOKIES!!! Here we are biting our "medals"! LOL
I bought a long sleeve hoody from the Lady Speed Stick Half Marathon Series and a necklace for $10. They had volunteers there taking the charms off our medals and placing them on the necklace! Way cool! First time I've ever gotten a charm. GREAT IDEA! I love it! Hopefully other races will pick up on this. You could easily put it on a charm bracelet as well. Guys, isn't this a great idea?! Hahaha.
Anyway, I'm happy I ran this race. I would highly recommend it to anyone (male and female) and would definitely do this one again or any other in their series.
And on an ironic side note… I forgot to pack deodorant for this trip!  Luckily there  was a travel size Lady Speed Stick one in our goody bag.  I immediately put it to good use and have to say – it works great!!  And the Luna bars were yummy too.
I'm very appreciative to my husband for finding this race and for asking my brother to run it with me!  Daniel and I are looking forward to planning more half marathons together soon!
So this past Sunday was my first half marathon in a state other than NH!  The race?  All Women Half Marathon – St Petersburg, FL
I have to say I was a worry wart about a few things;
1) the heat, of course – would it be too hot?
2) the flatness of the course – sounds crazy but when you're used to hills, the thought of no DOWNhills isn't comforting!
3) my sneakers – they weren't feeling so good after mile 10 a few weeks ago (in another half marathon that I haven't written about… yet)
4) whether or not to stay with my brother – he was completing his first half marathon! (Ya, it's called "All Women" but there were about 100 men runners!  Ya, they're no dumbies!)
5) chafing – it's been a while since I wore shorts! (it's chilly in NH!)
6) and the BIG one – my running shape – having come off a Half in which I PRed (and worked hard for it) just two weeks  prior  to this race and not really knowing how to recover one week and then taper the next week, I actually didn't get a whole lot of running in between the two races (cardio and weights – yes, but running – just a little)
Here's how my concerns played out…
1) actually had great running temperatures. The sun never came out (started at 7 am) and I was actually cold at the start!  There were some serious headwinds a few places though!
2) I think I was right to worry about this.  I missed the rolling hills for sure.  I think my muscles would've benefited from some different grades to run up and down.
3) Ya – my Sauconys are great for shorter distances but just didn't cut it at this Half either.  I ended up with 3 new blisters and tired feet around mile 7!  Looking forward to my new Mizunos (that I won!!) and trying out my new Newtons as well to start working on slowly changing my running form into a midfoot runner.
4) We worked this out easily the night before.  We would run our own races.  (Turns out I should've just run it with him!  Lesson learned!)
5) No chafing!  Yeah!
6) I think I was in fine running shape… just not PR running shape.  My muscles seemed more lethargic yet my heart rate was generally lower this race than my last.  And now that it's almost 48 hours since the race (as I type this) I can tell you I'm WAY more sore from this race than from my last race.  Strange, right?  I'm thinking I'll never really know the real answers but have some good guesses as to why that is! (Would love to hear your thoughts too!)
- didn't eat enough the day before (salad for lunch and salad with side of pasta for dinner – results of eating out while traveling)
- the flat terrain
- My body simply hasn't fully recovered from 2 weeks ago
- Ran too many fast miles – faster than I'm used to running most of the time! (Total Rookie Mistake!  I should've known better!!)
- Thinking I could PR in two races in two weeks just plain wasn't smart!
So, I don't have time to walk through the race experience at the moment (I'm tired!!  Must. Get. Sleep!) so I'll leave you with a picture of us at the finish.
Rest Day Ramble
Seriously?!  Can't believe it.  I WON!!!  I WON!!!
Two days ago I submitted a question to RunMommaRun on FB to be asked to Renee Metivier Baillie.  By doing so, I was entered to win a pair of free Mizuno running shoes.  They gave away one pair, ONE!  And they (randomly?) selected me AND asked Renee my question!!  So amazing.  I feel like one lucky runner!!!  (Who's Renee?  Only a top Mizuno Elite athlete who finished 8th place at the Chicago Marathon on October 7, 2012 with a time of 2:27:17, the top American and 5th fastest debut in US history!)
You see, last year I ran in two amazingly great Mizuno shoes.  They really were perfect.  In fact, I bought a pair on vacation from a local running store and ran 10 miles THE NEXT DAY in them.  I had zero problems.  THAT'S how good they were! (Yes, while on vacation I ran 10 miles……twice on that same vacation.  LOL)
Unfortunately the next model they came out with rubbed my left ankle.  So I didn't buy them.  I tried other Mizunos but they just didn't feel as great.  So I switched.  And although the sneakers I have now I do enjoy… they have a limit.  Somewhere around 10-11 miles into a run my feet just start to feel fatigued.  I feel myself shifting my foot around in the sneaker to try to get it comfortable again.  So, a pair of long distance shoes  is something I've been searching for over the last few weeks!  I knew Mizuno was releasing a new shoe this month so I asked my local running store to put a pair in my size aside for me when their shipment arrived.  (They are so good like that!)  So get this, they called me Tuesday this week to tell me the sneakers are in and waiting for me (the same day I entered the contest).  I won a free pair of Mizunos today, just two days later!!!!  Do you believe in signs?  I sure as heck do!!!  So I'm taking it as a sign for two things (is that allowed?!) – 1) I'm meant to be in Mizunos and 2) starting this blog was absolutely the right next step!
I can't wait to go to the store and try these on tomorrow.  Fingers (and toes) crossed that they fit me and I love them!  If not, well then darn, I'll just have to try more Mizuno styles on (haha – quite the hardship, huh?!).  Aren't they pretty??  I'll let you know how they turn out for me.
A BIG THANK YOU TO RUNMOMMARUN AND MIZUNO RUNNING NORTH AMERICA FOR GIFTING ME WITH SUCH A GREAT SHOE!!!  I CAN'T WAIT TO EXPERIENCE MY NEXT BRILLIANT RUN!!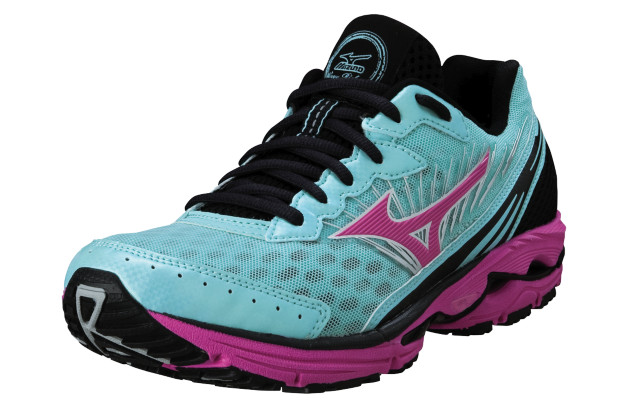 Tonight I subbed for someone and taught a 6:45 pm SPIN class.  As I was ready for a nap at 2 pm today I was wondering how the class would go tonight!!  Would I have enough energy for me to ride effectively, and even more importantly, have enough energy to share with them?  You bet I did.  It's amazing to me, every time, how as soon as the music comes on (started with "One More Night" by dreamy Adam Levine… oh I mean … Maroon5) and you get pedaling and you watch your heart rate go up on your Garmin how everything just feels RIGHT.  No more feeling tired and dragging.  Just pick it up and go.  Knowing the late timing of the class would be different for me I planned our ride profile so we pedaled to the beat of the music nearly the entire time.  I love this style of teaching. (I know it's not for everyone and excludes some songs…) It pumps me up.  The music gives me energy and I can then transfer that energy to the riders in the room.
"One More Night", when pedaled to the beat (i.e. if you count the beats in sets of 8 (watch this video if you don't know what I mean) and your right foot comes up (or down) every beat (1,2,3,4,etc) then you are pedaling at 93 rpm.  A great warm-up cadence.  This is how we started tonight.  LOVE it.  I knew it was the right song choice when it came on XM radio on my way to the gym!
At the end of the ride a student came up and asked me about the last song to which we climbed.  Her comment: "Loved it, it sounded like a remix or something and just made me want to the climb the hill."  PERFECT!  Every instructor's dream – that we have inspired someone to move/give just that much more AND they want to own the song themselves to KEEP moving in their other workouts!!!  I know, I know… you just want to know which song it was.  I'll tell you… Stone in my Heart by Graffiti6.  Now this song gives me a good chance to talk about pedaling to the down beat.  For this song, if you tried to have your right foot come up on EVERY beat (1,2,3,4,etc) you would look ridiculous not to mention be pedaling out of control and waaaaaay faster than any cyclist would ever recommend! LOL  BUT, if you pedal to the down beat you would look super cool and be right at 72 rpm.  So, what does that mean? Well it means you pick a foot (let's say the right one) and your knee would either come up or down on the ODD beats (1,3,5,7) instead of every beat like with "One More Night."  If this isn't making sense, watch this video to find the down beat… maybe it'll help… maybe you'll just get to hear the cool swagger in Jim's voice.  Either way, you'll have heard something new.  LOL
So, you might be wondering how can you determine the actual bpm (beats per minute) of a song.  Well that's easy.  Simply go to this web site and start pushing any button on your keyboard on every beat (1,2,3,4,5,etc) and after about 32 counts you'll have yourself a bpm which you can then translate directly to an rpm.
Clear as mud?!  Feel free to email me, tweet me, or leave a comment here with any questions!
I soooo appreciate music that makes me want to move!  Here's to finding the songs that MAKE YOU WANT TO MOVE!
Hey, I'm curious. What are some songs that make you want to move?
Every Tuesday I teach a strength class at the club.  I so enjoy this class and the ladies (and occasional gentleman) who attend.  We had 18(!)attendees yesterday and had a fabulous workout with the stability ball, some heavy weights, and a mat.  That's it.  That's all we needed yesterday!  I've had a few requests for MORE CORE work so I was happy to oblige this week before my next half marathon on Sunday.  (Less leg work? Yes please!)  Love the push ups and the pullins using the stability ball!  There are a couple different variations to the pullins… this week I used this variation:
(picture courtesy of somewhere out in the world wide web!)
Another great variation is lifting your gluts higher:
(photo taken from fitvillains web site)
Either way, they're a great exercise!
No cardio for me today.  Typically I get in a Tuesday morning treadmill run immediately following Strength but the schedules have changed in our home once again so no cardio.  That's okay.
In the afternoon I had my physical therapy.  I've had this nagging (and by nagging, I mean worse than your grandmother's nagging about you don't call or visit her more often) hamstring/adductor "injury".  Of course after last week's HILLY Half Marathon it was screaming at me.  So I headed back to therapy.  (Background:  I felt a little "pop" while running up a LARGE hill at 3 am September of 2011!! (Heard of the Reach the Beach relay??!!) Oddly enough, the true pain didn't present itself until 3 weeks later AFTER a nice and flat half marathon.  And it's been nagging ever since.  Anyway, I'm digressing…)
PT consisted of some Graston (R) torture… errr.. I mean therapy… on the adductors with Karin.
Seriously – do these tools look like they'd do ANYTHING good for you??!!  LOL
Regardless of the ginormous bruise I garnered from my last session, I'm so, so fortunate to be working with her (and her husband!).  I know I'm in good hands with the two of them.  Karin is an established triathlete (um ya, she just competed in New Zealand, finished 11th in her age group with FIVE minutes spent OFF her bike due to tire issues – she kinda rocks!).  You can see the Team USA roster here.  Anyway, a few eccentric exercises, some stretching and some tape and I'm outta there…. 'til Thursday.
I appreciate my physical therapists who encourage me to keep doing what I love (working out) with a few modifications, additions and deletions here and there.
And I appreciate the opportunity to strength train with some great ladies every Tuesday morning!
Rest Day Ramble
Today was the first step in a long process of becoming a Personal Trainer.  I met with the Head Trainer/Manager at our Health club (where I'm currently a group fitness/SPIN instructor) today to discuss the process of becoming a Personal Trainer.  I'm very excited to take on this next step in the fitness industry.  I won't be starting shadowing other trainers until January but until then I'll be doing some research into the field and some of the industry leaders like Gray Cook, Eric Beard, and more.  Do you have any favorite Personal Training web sites/blogs you follow?  Books you love?  If so, please share!  I'd like to read all points of view on personal/group training as well as working with all types of clientele from youth athletes to the older population to everyone in between just getting started or coming off of an injury.  Pretty intriguing stuff!
Hope your day was a great one!
Today started very early with a 7:30 am SPIN class!  My club has been remodeling in its entirety for some months now so our SPIN bikes were moved a few days ago from the SPIN room to the Studio.  With that, class times/offerings have been altered slightly (yet almost all classes both in the studio and on the bikes remained!) so an hour earlier was on the calendar for today.  (I'm not a morning person.  At all.)  Yet it was great!   I led a super fun 50 minute Interval class with lots of pick ups both on hills and flats.  It was tough but felt great…until around noon.  Then I remembered my 6 mile run yesterday at 4 pm and realized I didn't have a whole lot of rest in between workouts!  LOL  My legs were all too happy in reminding me.  Oh well.  Tomorrow is a rest day (well rest from working out, the kids don't have school so there won't be much rest actually happening!).
Six more days until my next half marathon.  I'm hoping for a few more rest days this week!