My Mizuno Lucky Day!!
Rest Day Ramble
Seriously?!  Can't believe it.  I WON!!!  I WON!!!
Two days ago I submitted a question to RunMommaRun on FB to be asked to Renee Metivier Baillie.  By doing so, I was entered to win a pair of free Mizuno running shoes.  They gave away one pair, ONE!  And they (randomly?) selected me AND asked Renee my question!!  So amazing.  I feel like one lucky runner!!!  (Who's Renee?  Only a top Mizuno Elite athlete who finished 8th place at the Chicago Marathon on October 7, 2012 with a time of 2:27:17, the top American and 5th fastest debut in US history!)
You see, last year I ran in two amazingly great Mizuno shoes.  They really were perfect.  In fact, I bought a pair on vacation from a local running store and ran 10 miles THE NEXT DAY in them.  I had zero problems.  THAT'S how good they were! (Yes, while on vacation I ran 10 miles……twice on that same vacation.  LOL)
Unfortunately the next model they came out with rubbed my left ankle.  So I didn't buy them.  I tried other Mizunos but they just didn't feel as great.  So I switched.  And although the sneakers I have now I do enjoy… they have a limit.  Somewhere around 10-11 miles into a run my feet just start to feel fatigued.  I feel myself shifting my foot around in the sneaker to try to get it comfortable again.  So, a pair of long distance shoes  is something I've been searching for over the last few weeks!  I knew Mizuno was releasing a new shoe this month so I asked my local running store to put a pair in my size aside for me when their shipment arrived.  (They are so good like that!)  So get this, they called me Tuesday this week to tell me the sneakers are in and waiting for me (the same day I entered the contest).  I won a free pair of Mizunos today, just two days later!!!!  Do you believe in signs?  I sure as heck do!!!  So I'm taking it as a sign for two things (is that allowed?!) – 1) I'm meant to be in Mizunos and 2) starting this blog was absolutely the right next step!
I can't wait to go to the store and try these on tomorrow.  Fingers (and toes) crossed that they fit me and I love them!  If not, well then darn, I'll just have to try more Mizuno styles on (haha – quite the hardship, huh?!).  Aren't they pretty??  I'll let you know how they turn out for me.
A BIG THANK YOU TO RUNMOMMARUN AND MIZUNO RUNNING NORTH AMERICA FOR GIFTING ME WITH SUCH A GREAT SHOE!!!  I CAN'T WAIT TO EXPERIENCE MY NEXT BRILLIANT RUN!!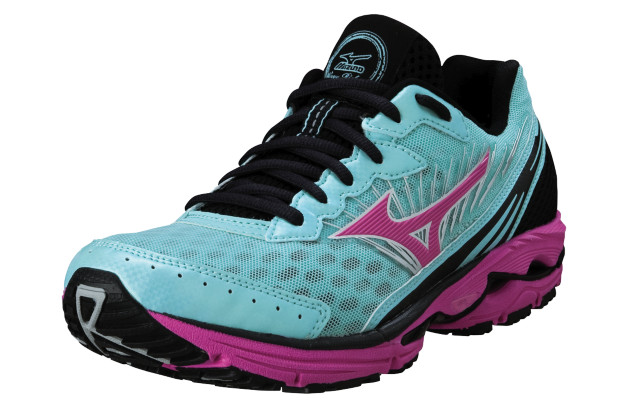 2 Responses to My Mizuno Lucky Day!!